November 5th, 2016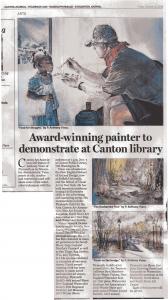 Hi Everyone!

I just wanted to let you know what's happening!

I am pleased to announce that I just finished doing a painting demonstration for the Canton Art Association on Friday evening, November 4th, 2016 and we had a blast!   Lots of fun...great questions...   wonderful group of artists and members, good food and lots of chatting.

Thank you CAA for the invite.

I am also conducting watercolor classes at the Plymouth Center for the Arts. The new session, (still time to sign up) starts this Monday, November 7th from 7:00 to 9:00 pm. and will run for 6 weeks. I hope you'll join me.

I did get a couple of paintings accepted in the 49th Annual Plymouth Guild for the Arts Exhibition. It's a great venue so if you get the opportunity, you should stop by and see what's happening at the center for yourself.

In addition, I am continuing to film (or tape) a series of one hour watercolor demonstrations for local access cable television. These shows. entitled "Painting for Pleasure" are being aired on the Carver, Plympton, Halifax and Hanson local access cable network as well as the Plymouth, Kingston, Pembroke and Duxbury cable network.

I have also started a 1/2 hour show at the PACTV studios called "The Artist's World" where I have the pleasure of interviewing people who either work in the business of art or who's activities include making the creative process happen. Examples; Gallery Owners, Art Framing, Educators and teachers, Volunteers who help out in shows and exhibits, children's book illustrators and so on. I'd love to talk to you if you are working in the business and may be interested in being interviewed. Call me.

Please be sure to check out my website at: www.panthonyvisco.com

You can also follow and "Like" me on Facebook: (Lets drive up those "Likes" ) https://www.facebook.com/ViscoFineArt/
or reach me at the following venues:
telephone: 617-823-0860
email: tonyv@theartdude.com

Hope to see or hear from you soon,

Sincerely,


"Tony"
P. Anthony Visco
June 28th, 2016
Honorable Mention Award for On the Green

The Plymouth Center for the Arts, 11 North Street, Plymouth, MA awarded an Honorable Mention to me on Thursday Night, June 23rd, 2016 for a painting that I submitted to their Summer Art Show which runs through August 7th, 2016

The painting, entitled: On the Green, is a framed watercolor that measures 24" x 10" not including the mats and frame. The piece depicts a group of 4 golfers putting on one of the many wonderful golf courses on the South Shore. It's Southers Marsh, a course designed around the cranberry bogs just North East of the Carver town line on Federal Furnace Road in Plymouth, Massachusetts.

The original painting is currently available for sale for $650.00 unframed or framed and matted for $775.00 from the artist. Please email me directly at tonyv@theartdude.com

On demand prints of this beautiful piece are available and can be shipped directly to you via http://www.anthony-visco.pixels.com/featured/on-the-green-p-anthony-visco.html

Do you know it? Have you played it? If so, drop me a quick email at tonyv@theartdude.com and let me know what you think.

October 5th, 2015
Hi Everyone!

     I just wanted to update you on my latest endeavors!

     On Thursday, October 8th, 2015 from 10 a.m. to 4:00 p.m. I am pleased to announce that I will be doing a painting demonstration at the Boston Design Center. This Demo is being held in conjunction with the Masterpiece Framing and Fine Art Gallery which now represents my work. The Gallery is located in suite 545 of the Design Center however since I am one of a few artists that will be doing demos, I may be painting in a location on the 6th floor. This is a planned open house for all; I would love to have you stop by and say "hello"! You may need to check with the gallery for my exact location.

I did get a couple of paintings accepted in the 48th Annual Plymouth Guild for the Arts Exhibition. It's a great show so if you get the opportunity, you should stop by and see it for yourself. It's running now through November 1st, 2015.

      I am also currently exhibiting work at Lou's Tavern in Plymouth. MA and the Area 58 Gallery at Cornerstones in Carver, MA.

In addition, I am filming a series of one hour watercolor demonstrations for local access cable television. These shows. entitled "Painting for Pleasure" will be aired starting this month on the Carver, Plympton, Halifax local access cable network. I am hopeful that they should eventually be aired on the Plymouth, Kingston and Duxbury cable network as well.

      Please be sure to check out my website at: www.panthonyvisco.com

You can also follow and "Like" me on Facebook: ( Lets drive up those "Likes" ) https://www.facebook.com/ViscoFineArt/ or reach me at the following venues:
       telephone: 617-823-0860
       email: riggahtony@gmail.com
       
      Hope to see or hear from you soon,

       Sincerely, 


        "Tony"
        P. Anthony Visco